Small Business Data Structures
| | |
| --- | --- |
| ✅ Paper Type: Free Essay | ✅ Subject: Information Technology |
| ✅ Wordcount: 4503 words | ✅ Published: 27th Jul 2017 |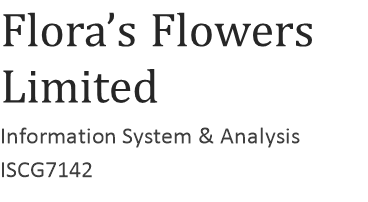 Summary
This report covers the authoritative functionalities and knowledge into the working of a wholesale flower maker and wholesaler organization Flora's Flowers Limited. This report covers the historical backdrop of the organization; the purpose behind its presence furthermore concentrates on the inside and out working of the same. The report likewise portrays the organization structure and culture and the assignments designated to every official of the organization. It likewise depicts the present day advances the organization is utilizing and the impediments they confront in the same. Accordingly, we give the most ideal answers for the issues that the organization is confronting.
1. Introduction
This document assembles data with respect to an organization called Flora's Flowers Limited. It expresses the functionalities in regards to association's data frameworks, history of the framework and the organization and viability of the organization.
Purpose
The motivation behind this record is to introduce a point by point portrayal of significance of data structures for an association. It likewise lays accentuation on the association's history, the organization structure, the explanation behind presence of the organization, the utilization of PC frameworks for systems administration, better methodologies for administration of PC operations and change of its data frameworks.
Vision
Flora's Flowers Limited is an organization that goes about as a wholesale maker of flowers and after that business sectors the newly produced flowers to different flower specialists and shops in the North Island. They have extended their business effectively in the North Island and now have a dream of growing the organization toward the South Island too.
Mission
The organization proprietor, Flora Forest is going for extending the operations of the organization to abroad markets in the coming two years. She likewise goes for improving the nearness of the organization in the South Island, for the most part in Nelson and Dunedin.
Overview
The owners Flora Forest and her husband Symonds Forest originally grew flowers as a hobby. As they realize that this hobby of theirs has a vast future in the business world, they thought of expanding it on large scale with a view of having good profits. Eventually they invested a capital and started Flora's Flowers Limited in the year 2002. Last year the company had a turnover of
$10 million with more than 200 customers in the North Island and about 50 customers in Christchurch area. The company then expanded to Christchurch (South Island) in the year 2005 after a study carried out by Coopers & Lybrand showed their results.
The office in Christchurch was originally a small distribution center, which mainly dealt with prepackaged bouquets. After the business was successful there, they opened a regional office and distribution center in June, 2006. It consisted of a small room where they received bulk flowers and packaged their own bouquets.
2. Information Systems of the organization
Here, we shall discuss the information systems of an organization, 'Flora's Flowers Limited', which manages its operations out of Auckland in an office next to the cool store.
2.1 Core Business Activities
This organization was set up after the owners of this organization- Flora Forest and her husband Symonds Forest realized the potential in growing flowers and selling them could give them good profits. They grew flowers originally as a hobby, but, after seeing the future prospects and the growth in this sector; they decided to expand it using a venture capital in 2002.
2.2 Company Structure
Like any other organization, Flora's Flowers also has a company structure that helps them to maintain their operations going out smoothly and in an effective manner. Ranging from the General Manager to Office Manager, this organization has the executives of the following expertise:
| | |
| --- | --- |
| Position held | Name of the Executive |
| General Manager | Flora Forest (owner) |
| HR Manager for permanent staff | Flora Forest (owner) |
| Manager of Finances | Symonds Forest (owner) |
| Marketing Manager | Lucy Corban |
| North Island Distribution Manager | Joe Simich |
| Cool store and Packing Shed Manager | Paul Murphy |
| HR Manager for casual Auckland staff | Paul Murphy |
| Garden Manager | Luke Gardener |
| Christchurch Manager | Michelle Street |
| IS Support/ Office Manager | Maria Vodafone |
2.3 Types of Information Systems
In order to execute all the operations successfully and meet the needs of their customers, this organization has amended the information systems over the years and came up with better and upgraded systems every time.
The very first Flora's Flowers Information Systems was paper based, which ultimately became difficult to deal with. Then they came up with an Excel spreadsheet, later with ACCPAC (accounting software), etc.
As the needs and demands of the organization changed, they also paved way for the change in the Information Systems.
Talking about the information systems that are currently in use, Flora's Flowers present order entry system is an in-house developed system that dates back 4 years and replaces an older version of the COTS package, as that never worked quite well. This order entry system, being currently used for raw materials that make up bouquets, has been made in such a way that it is capable of working with ACCPAC. Although the information systems have been updated from time to time until the latest one, there are still many problems with the last one that the staff members have to work around until someone has time to sort them out.
2.4 Main units of the System
We will now look at the main units of the system and the tasks allocated to each one of them:
The General Manager and HR Manager: Flora Forest basically looks over the production of flowers by estimating sales and designing planting schedules since the starting of the organization.  She also negotiates with seed and fertilizer suppliers for the best possible deals.
For the above work, she uses MS Office 2003 to use computing applications such as Excel. She also uses a simple HR system based on an MS Office Access 2003 database.
The Financial Manager: Symonds Forest is responsible for managing the funds- general ledger, A/P, A/R, payroll and cash flow from the beginning; presenting budgets; looking after the billing and invoice to customers and suppliers.
To accomplish these tasks, he uses ACCPAC (customized accounting software that basically serves small and medium sized company markets). He also works on MS Office 2003.
The Marketing Manager: Lucy Corban has been working with the organization for 3 years. She looks after acquiring new clientele; providing the best product at the least cost and on the estimated time; promoting the company-advertising and personal selling; order processing.
In order to complete these tasks, he uses ACCPAC Sales Module; Goldmine CRM (software for increasing productivity, sales leads, etc.) and MS Office 2003.
The North Island Distribution Manager: Joe Simich has been associated with the company for 4 years. He schedules, maintains and coordinates vehicles for dispersing best product; managing inventory (list of items such as property, goods in stock, etc.) and maintaining it; managing the suppliers; shipments to customers and to the Christchurch branch.
For all these operations he uses a simple Distribution System that he built himself using a Paradox database; a simple Inventory System written by him which integrates with the Distribution System but which has limited functionality; ACCPAC Inventory System which has good functionality and MS Office 2003.
The Cool Store and Packing Shed Manager/ HR Manager for casual Auckland staff: Paul Murphy is Mr. and Mrs. Flora's youngest son. He is the person responsible for ensuring that the stock in the cold store stays there for the least time; ensuring that right products are given in the right order; monitoring the cooling system; production of delivery and barcode labels; overseeing the bouquet production; overseeing the packaging; maintaining packaging supplies and employing casual staff.
For doing these tasks, he uses Order Entry system; The Distribution System; The HR System and MS Office 2003.
The Garden Manager: Luke Gardener has a family background in growing fruits and vegetables. He is highly capable in his field, but is not a computer literate. He ensures that planting is done according to timetables; cares for all plants in the fields and greenhouses; maintains greenhouses and watering systems; maintains the correct level of soils, compost, fertilizers, seeds, etc. employs casual staff.
For doing the above tasks, he is given all instructions on paper. He does not use computer at all, but is being encouraged to learn basic data entry using simple applications.
The Christchurch Manager: Michelle Street is looking after the following processes. She is responsible for the delivery of bulk flowers to the Christchurch office; the acquisition of new customers; increasing orders from existing customers; ensuring that the bouquets meet the high standards; maintaining all account records which are done in Auckland.
In order to complete the above tasks, she uses the HR system; the Order system; ACCPAC Sales Module; Goldmine CRM.
The IS Support/Office Manager: Maria Vodafone has been associated with the company for 2 years. She looks after the LAN; support; assets- hardware and software; the system architecture.
To accomplish these tasks, she uses NT Network Node Manager and other Administration Tools; ACCPAC Asset Module and MS Office 2003.
2.5 Usage of Hardware, Software, Operating System(s), Networks
Now, we shall discuss the system architecture i.e. the hardware, software, operating     system(s) and networks that are involved for the smooth functioning of this organization. These are as follows:
The system architecture consists of a combination of hardware, software and a basic star topology network:
Pentium Vs with 512MB RAM running on NT
1 laser printer at each location
Fiber optic lines and modems
Basic star topology with the switch located at Auckland office. There are PCs in the packing shed (2), cool store (1) and the forest home (2), as well as 3 in the office.
         All PCs have the following software installed on them:
MS Office 2003
Other job specific packages
          The PC system uses NT as its basic operating system and that manages office automation.
3. History of the System
Alongside help in basic decision making, the organization data structure serves as support to manager when deciding. Decisions are as often as possible made in the buy data framework, in view of data from the account information framework. As a general rule, relevant data required in the purchase process are collected financial reports.
In this case study, Flora's Flowers Limited were using paper based information systems which was not easy to manage and they were accessing this information system in their different departments to run their business smoothly these systems were: An exceed expectations spreadsheet was created to help with outlining the conveyance however was not the best device for the job. This prompted the development of a distribution application which utilized a paradox database, which enormously enhanced efficiency. This development was conveyed by Joe Simich, who then went ahead to develop an inventory system which was connected to the appropriation system. However, a number of the other part frameworks were still primarily paper based systems.
In HR department, Flora's Flowers Limited use MS office 2003 to keep the record about their worker and this system is developed by the flora and it does not incorporate with whatever another data framework.
Finance department of Flora's Flower Ltd used ACCPAC (A customized off the shelf (COTS) Accounting): ACCPAC Accounting and Financial Management software unite your sales, develop financial reporting and supply better business and Flora's Flowers Limited Finance Manager, Symonds Forest developed this system to managing the company finances top to bottom. It includes a sales module, and stock module, an accounts module and asset management module and also uses CRM (customer relationship management) (accounting, 2015).It is about placing you in control of your business with the goal so that you can maintain track of sales. In this case study Symonds is using this CRM system to forecasting the sale of flowers and budgeting (Rouse, 2014).
Current order entry system in the organization is an in house developed system it was developed 4 years ago and changed with COTS package that never worked particularly well and this information system is accessed for the raw materials that design the bouquets, has been made to work with ACCPAC.
Marketing Manager of Flora's Flower Ltd, Lucy Corban has developed ACCPAC sales module, Goldmine CRM and MS Office 2003 for gaining potential clientele, advertising and personal selling and serving of orders.
Business management software: Handle your business with money related, reporting and assist you to run your small business (index, 2013).
3.1 Development of the System
Joe Simich the distribution manager of the North Island has been with the company for      four years. He is exceptionally needy upon figures and measurements from his frameworks which at present are giving the essentials of his logistics investigation.
Initially he used to excel spreadsheet inscriptive an easy application in Delphi using a Paradox database but it has moderate functionality to work. Joe established a distribution system using paradox database.
3.2 Procedures to develop the system
In the distribution they used a paradox data base which greatly advanced efficiency. After that developer build up an inventory system that was connected to the distribution system.
The acquisition in 2003 of ACCPAC an off the self-bundle that was tweaked for FFIS (Foundation Financial Information System) was key for the feasibility of the organization. It contains a business module, a stock module, a records module and a benefit administration module.
In HR department, developed by the flora does not incorporated with another data framework.
Developers build up order entry system to replace an earlier COTS package that never worked well, this entry system is used for raw materials that make up the bouquets.
Flora's Flower Company used the above mention tools to improve the company productivity and efficiency.
4. Administration and Effectiveness of the System
Maria Vodafone administers and maintains the system on call 24×7. Minor problems are solved by staff themselves, so there are only few callouts. If sometimes she isn't available, she arranges an alternative of her cousin.
4.1 Disciplined and systematic approaches:
Demands for changes are dealt with as issues.
Issues with the framework are recorded on a load up and concurred a need rating, yet time requirements imply that frequently a basic non-pressing occupation is settled before a complex earnest employment.
There are techniques for presenting fixes before they are put into generation, yet they are frequently avoided, with just intermittent fiascos.
Reinforcements for each of the part frameworks are done nightly and reinforcement tapes are put away off-site. Since the last calamity, a duplicate of the earlier night's reinforcement has been continued site.
There are methodology manuals that are about exceptional, yet a great many people simply request that other individuals how do things.
4.2 Issues Encountered:
Logistics:
The enormous increments in fuel and running expenses for the vehicle are cutting into benefits and the applications and frameworks being used are by and large seriously pushed.
Orders have expanded to where every client more often than not puts in no less than one request for each week containing somewhere around 20 and 80 items.
Numerous clients are putting in various requests with various conveyance addresses.
Systems:
The staff are thinking that it`s hard to adapt to the different frameworks and the issues that should be worked around.
In addition to, everybody needs speedy reacting framework and discovering current framework is hard to interact with each other, so necessity of completely utilitarian framework is must.
Communication Gap:
Correspondence is working simply because of the nearby bonds between the staff. The greater part of them see each other at any rate once per week for family social occasions.
4.3 Improvement of Organization:
The company totally depends on its ERP (Enterprise Resource planning) system and the Flower flora is using ACCPAC system which is basically known as 'Sage 300 ERP' (Sage_300_ERP, 2016). The System is good with its functionality of accounting, Inventory, sales module, CRM, Supply chain and Maintenance. But the Human Resource and marketing system aren't available with the system. Above mentioned that staff found the difficulty with integration and complexity of this system. I would like to suggest the company to adapt new system with all functionality.
Initially it may cost high to company and will take some time whist adapting. We have seen the vision of company to make a place in international market and achieving that goals the company need to choose suitable ERP system for the company.
Find Out How UKEssays.com Can Help You!
Our academic experts are ready and waiting to assist with any writing project you may have. From simple essay plans, through to full dissertations, you can guarantee we have a service perfectly matched to your needs.
View our services
In Simple words Enterprise resource planning (ERP) is just integrated system which contains product planning, purchase, manufacturing or service delivery, marketing and sales, inventory management, shipping and payment, finance (Enterprise_resource_planning, 2016). The best and suitable ERP system for company is SAP ERP. SAP ERP incorporates the key business functions of an organization.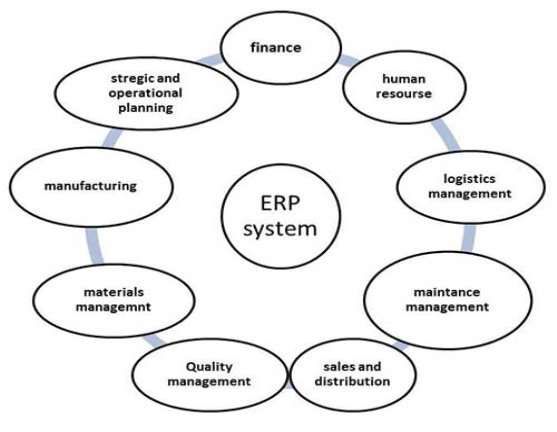 Figure 1 ERP System
According to a blog (Arabia, 2015), There are 2 Types of SAP ERP Modules. Number one is Functional Modules and second one is Technical Modules. All SAP Modules integrated with each other with functionality and provide us best solution for Business. Most important SAP Modules that Bunnies implement for their business are
SAP FICO (Financial Accounting and Controlling) module
MM (Material Management) Module
SD (Sales and Distribution) module
HR (Human Resource) module
PP (Production Planning) module
PS (Project System) module
Basis module
security module
ABAP (Advanced Business Application Programming) module
But Flora Flower's SAP Business Suite Applications is the best option as per their current usage of modules and problems with integration.
SAP Business All-in-One is a suite intended for medium sized organizations that need the refinement of SAP's Business Suite, however require a quicker usage and lower all out expense of proprietorship (businesssuite, 2015). The item is the same code base as the Business Suite, yet comes "out of the case" with designs which speed up the execution procedure for medium sized associations. SAP Business All-in-One addresses the necessities of various ventures and claims more than 700 industry-particular programming arrangements.
The usefulness of SAP Business All-in-One is complete and incorporates applications for big business asset arranging, client relationship administration, supplier relationship administration and business knowledge. For developing organizations, the framework gives a clear movement way to the SAP Enterprise item. SAP Business All-in-One can coordinate with desktop devices, for example, IBM Lotus Notes, Microsoft Office and Microsoft Excel.
SAP Business All-in-One works on an extensive variety of databases and working frameworks. SAP Business All-in-One is controlled by the SAP NetWeaver innovation stage, permitting it to be incorporated with non-SAP programming as requirements change. Usage time intended to be as short as eight to 16 weeks (SAP Business All-in-One Software, 2016).
Now watching out the solution for flora flower; by using SAP, the company need to provide training for the staff so that it will be easy for everyone to work on new framework and by doing so the staff will interact to each other and shall get close to each other.
The module of Supply chain management (SCM) manages the flows of goods and services. SCM means identification of demand through to its delivery to point of use (Supply_chain_management, 2016). Below is the flow of supply chain management how it works. The underlying phase of the store network procedure is the arranging stage. We have to build up an arrangement with a specific end goal to address how the items and administrations will fulfill the requests and necessities of the clients. Subsequent to arranging, the following stride includes sourcing. After that assembling of items are separated by clients' request, the items are conveyed to the client at the foreordained area by the supplier. In the last stride, the organizations need to manage client questions and respond to their complaints (supply_chain_management,2016).
For better understanding look at the diagram below.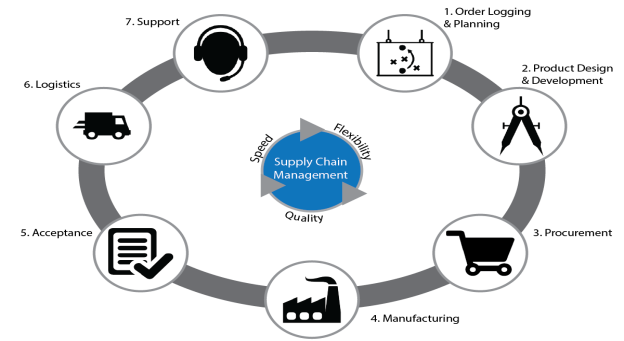 Figure 2 Supply Chain Management
5. Conclusion and future scope
This report gives the overall information about an Auckland based wholesale flower producer and supplier company Flora's Flowers Limited. This report carries us to the history of the organization. It also lays stress on the networking capabilities that are involved in the same and the problems they are facing with it. In this report we came to know about their all future plans and also gave suggestions on how to overcome those problems. The knowledge we gained from this IT infrastructure helps us to know more technologies, software and how they are applied. From this project we learnt how an organization networks work and how important it is to upgrade them from time to time, keeping in line with the business world.
SAP is the best innovation supplier to help us with our arrangements to incorporate the majority of our product needs into a solitary stage, giving us the visibility required to proficiently deal with our business end-to-end. Thus, if the organization uses SAP business suite, their dream of running their company in the international marketing without any obstacles would be successful.
accounting. (2015). Retrieved from accpacnet: https://www.accpacnet.com/accounting.htm
Arabia, R. S. (2015, July 2). SOlution Dots. Retrieved from Solution Dots: https://solutiondots.com/blog/sap-erp-modules.html
businesssuite. (2015). Retrieved from websmp201.sap-ag.de: https://websmp201.sap-ag.de/public/businesssuite
Enterprise_resource_planning. (2016, August ). Retrieved from wikipedia: https://en.wikipedia.org/wiki/Enterprise_resource_planning
index. (2013, December). Retrieved from managemore: http://www.managemore.com/index.htm
Rouse, M. (2014, November). CRM. Retrieved from techtarget: http://searchcrm.techtarget.com/definition/CRM
Sage_300_ERP. (2016, March). Retrieved from wikipedia.org: https://en.wikipedia.org/wiki/Sage_300_ERP
SAP Business All-in-One Software. (2016, July). Retrieved from Software Advice: http://www.softwareadvice.com/nz/erp/sap-business-all-in-one-profile/
Šimović, V. (24/jan/2012). A case study :an information system model. An information system management model, 1.
supply_chain_management. (2016). Retrieved from tutorialspoint: http://www.tutorialspoint.com/management_concepts/supply_chain_management.htm
Supply_chain_management. (2016, August). Retrieved from wikipedia.org: https://en.wikipedia.org/wiki/Supply_chain_management
Cite This Work
To export a reference to this article please select a referencing stye below:
Reference Copied to Clipboard.
Reference Copied to Clipboard.
Reference Copied to Clipboard.
Reference Copied to Clipboard.
Reference Copied to Clipboard.
Reference Copied to Clipboard.
Reference Copied to Clipboard.
DMCA / Removal Request
If you are the original writer of this essay and no longer wish to have your work published on UKEssays.com then please: